Hm. Sometimes, when I am half asleep I dream. And I generally dream big. Big dreams and big ideas big. Wait. When I do that the ideas start inside my head, not in front of my eyes....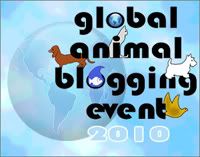 This is in front of my eyes! Hey I am not dreaming! GLOBAL ANIMAL BLOGGING EVENT 2010 IS REAL!
and I quote:
[3/9/10]




Heads up, furiends. I'm preparing the 1st Annual International Animal Blogging Event. It will take place, right here, on this blog, beginning

April 1st and ending on April 18th, when all the winners will be announced.

I will accept links

March 31- April 10th.

We can all come together and have lots of fun. The rules are quite simple. If you want to participate, you to have to place the event's logo on your sidebar, email me a link to the post with the event's logo (yes same logo but on your actual post) and instructions for your readers. You just have to figure out your one or more giveaways--that's up to you. I will then glance at your post and if it's G-rated and satisfies the two conditions, I'll post it on my blog for all the others to share and be able to visit with ease. Those of you who don't want to give away anything, can still participate. You can just use the links to get to meet new furiends and if you like, leave a comment (only one per post) so that you can become eligible to get the giveaway. This is a blogging event for bloggers. This is important as we, the active participants, will need to contact you at the end of the event to find out where to mail the prizes. We are all going to be winners here. We'll either gain new friends or prizes or both.

Until then: TELL ALL YOUR FURIENDS! When I say anything, I mean anything from tiny Sugar Gliders, to crazy coyotes. SPREAD THE WORD and let's have some fun!

I am looking for a cool badge/logo and a catchy name/acronym (such as: International Animal Blogging Event/IABE, or All Critters United/ACU etc). Since I came to you my close furiends feel free to brainstorm with me. "
This is on
Tiny's blog...
Interesting... I am in. Yes, we have giveaways. Fabulous ones.
we have 3 Bichon Candles to give away. I modeled for them :) Wanna see??? They look like this:
4 " high by 3 " wide
Cute ha? Just like me! ;)
So... partecipate!!!

'vie